Paralyzed Montgomery teen experiences 'Magic Moment'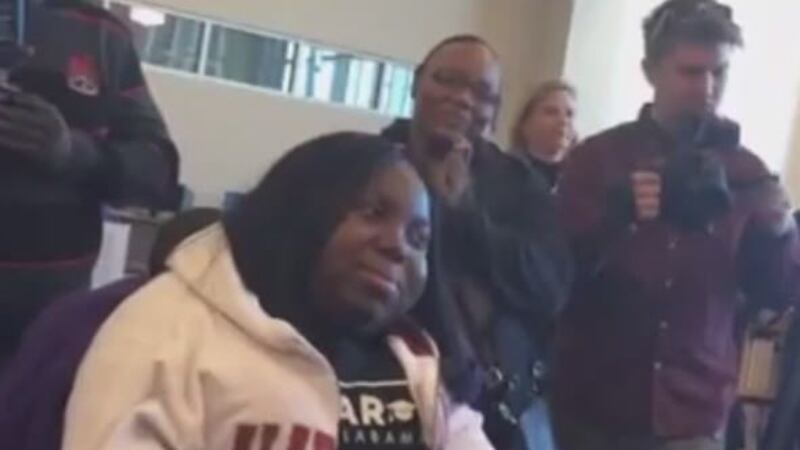 Published: Feb. 10, 2017 at 3:52 AM CST
|
Updated: Feb. 11, 2017 at 12:16 PM CST
MONTGOMERY, AL (WSFA) - It was a truly magical moment for a Montgomery teenager Friday. A local law firm joined with the Magic Moments organization to surprise 16-year-old Marquisha Jones at Carver High School.
Marquisha was paralyzed in 2015 after being struck by a stray bullet that came through the wall of an apartment while she was watching TV.
After what happened to her, Jones wants to fight for other victims and get the justice they deserve.
"I haven't gotten justice for my incident yet, and I just want people to be able to get justice faster for their family members and friends," Marquisha said.
To help her accomplish her goals, Hill Hill Carter law firm and Magic Moments surprised her with some much-needed supplies.
She now has a laptop, iPad, voice-adaptive technology and mounting equipment for her wheelchair.
"It will help a lot because I'm not able to type on my own," Marquisha said.
"We have attorneys who are visually impaired, who are hearing impaired, everything is handicap accessible. So, she can come on and just argue a case," claims Jayne Harrell Williams, a shareholder with Hill Hill Carter. "As long as she's tough and she can open her mouth or have something speak for her, come on and do it!"
Williams actually grew up in the same neighborhood where Jones was injured. She is confident Jones can accomplish whatever she desires.
"She can do anything she wants to do. One of the things I told her is to be a lawyer you have to be tough, and she's already proven that she is tough. She has a tough road ahead of her and everybody has their struggles and she has more than most, but she's proven that she can be tough and do really good things. So, we're excited for her and expect great things from her," said Williams.
For the high school student, she says it's not just the items that mean so much to her.
"I'm thankful that people know my story and will try to help me pursue my dreams and make things possible," Marquisha said..
Not only did attorneys present her with the gifts, they also gave her some business cards saying they are more than willing to be mentors and help her along her journey.
Founded in 1984, Magic Moments has granted more than 4,600 magic moments to children with chronic and life-threatening conditions in all 67 counties of Alabama.
Read more about Magic Moments and get involved.
Copyright 2017 WSFA 12 News. All Rights Reserved.