Mississippi defeats Alabama in the 27th All-Star boys' basketball game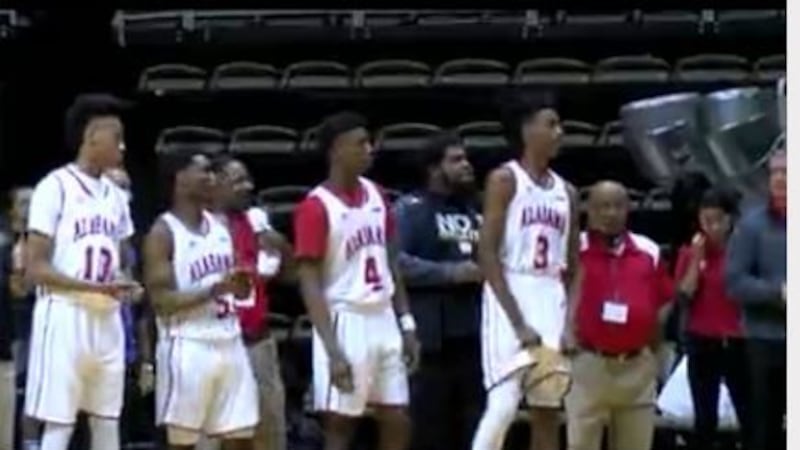 Updated: Mar. 17, 2017 at 10:16 PM CDT
MONTGOMERY, AL (WSFA) - Mississippi's All-Stars defeated Alabama 96-91 in the 27th Alabama-Mississippi All-Star boys' basketball game played at the Dunn-Oliver Arena Friday night on the Alabama State University campus.
Mississippi MVP Jarkel Joiner of Oxford led the winners with 24 points, 12 in the first half and 12 in the second. Joiner is a Cal State-Bakersfield signee. He was 10-of-15 from the field for Mississippi.
Alabama MVP Herb Jones of Hale County finished the game with 17 points, eight rebounds and three steals to lead Alabama.
Mississippi, coached by Clay Norton of Clinton and Kim Windham of Port Gibson, led 47-45 at halftime and outscored Alabama 49-46 in the second half. Troymain Crosby of Laurel had 17 points and seven rebounds, Ledarrius Brewer of Meridian added 12 points and Dewayne Cox of Ripley had 11. Jesse Little of Starkville had nine rebounds and 6-foot-10 Galin Smith of Clinton, an Alabama signee, had eight rebounds and two blocked shots.
Alabama, coached by Darrell Barber of Midfield and Richard Carter of Lanett, got a big game from Shy'm Cunningham of Midfield. He had 18 points and was 7-of-8 at the foul line. Malik Burnett of Lee-Huntsville had 12 points and Javan Johnson of Austin had 11 points and six rebounds. Both players have signed with Troy University. Cunningham is still unsigned.
    
Dontavius Heath of Sacred Heart also had four assists and four steals for Alabama.
Copyright 2017 WSFA 12 News. All rights reserved.