Southern Pine Beetle infestation impacting AL trees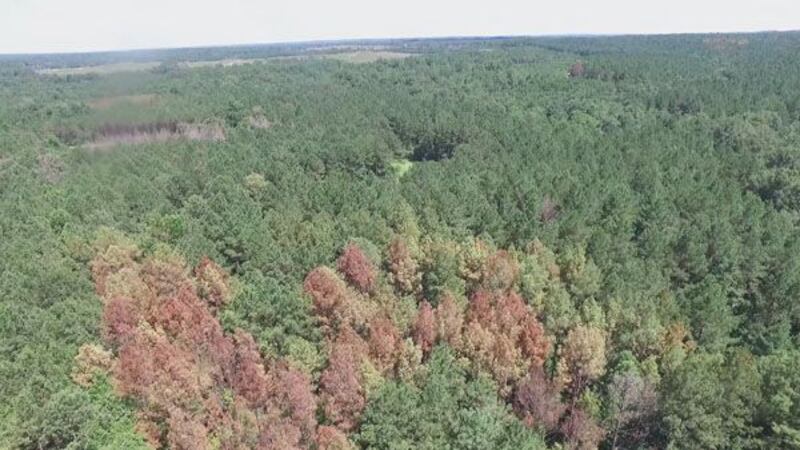 Updated: Aug. 22, 2017 at 10:22 PM CDT
MONTGOMERY, AL (WSFA) - A tiny insect known as the Southern Pine Beetle is causing widespread damage to the state's trees. The Alabama Forestry Commission is on high alert and is taking to the skies to track the path of the infestation.
The Alabama Forestry Commission has been conducting aerial surveys as they monitor an outbreak of the beetles which are only about the size of an ant.
"That insect can do a lot of damage," said Dana Stone with the Alabama Forestry Commission.
Views from the air show lush green pines with clusters of dead trees infested by these insects scattered throughout.
"It could get worse. It isn't under control yet," said Paul Stuckey with the Alabama Forestry Commission.
Last year, statewide the commission said there were 691 aerially detected spots infesting 36,346 trees. As of August of 2017 close to 1,000 spots had already been recorded. The drought and mild winter are just some of the factors that have made the issue worse.
"The trees are stressed from the drought and other factors and they are taking advantage of that situation," said Stone.
Because of where these beetles live under the bark of the tree you can't spray for them. Landowners like Jeremy Brown have been left with only one option.
"We are having to have it cut to keep it from spreading to our other timber and our neighbor's timber," said Brown.
While other producers can bounce back from an off season, it is different for those in this industry.
"What makes this so devastating is this may have been a 30 to 50 year investment. It is not something you can just pick up and try again next year," said Brown.
On average, the state forestry commission says the state loses 60,000 pine trees a year during a Southern Pine Bark Beetle outbreak
that totals approximately $800,000 in economic loss. Of course, during an epidemic episode, the amount of economic and timber loss is greatly increased.
The Alabama Forestry Commission is encouraging landowners to manage their property so the risk of infestation spreading is reduced.
Copyright 2017 WSFA 12 News. All rights reserved.