Trump Jr. speaks at Faulkner University anniversary dinner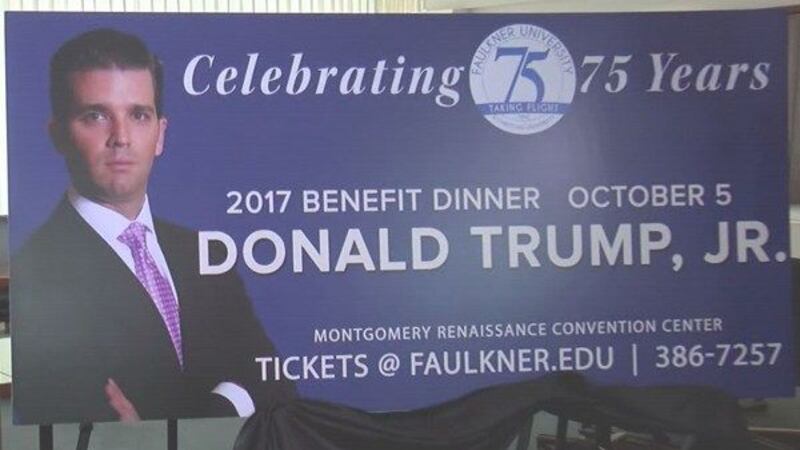 Updated: Oct. 5, 2017 at 10:34 PM CDT
MONTGOMERY, AL (WSFA) - Donald Trump Jr. spoke in Montgomery Thursday night, on behalf of Faulkner University as part of their annual benefits dinner.
In his speech, Trump Jr. contrasted Faulkner University to what he portrayed as the more liberal counterparts. He painted the picture of many universities, saying some universities, "Train students to hate their country and hate their religion."
Trump Jr. said one of the issues facing the country is that words have lost their meaning. As an example, he defined what people regard as hate speech, saying "hate speech" is considered saying "America is a great country" or "Our founding fathers were good people." Trump Jr. also said many universities restrict first amendment rights, while saying Faulkner is going about it the right way.
What some in the crowd took away was that some countries promote group think in their quest for diversity.
"Not all, but some universities consider diversity that everybody looks different but thinks alike and the type of diversity we want in our university is diversity of thought," said state representative Jack Williams. "University's responsibility isn't to teach them all the answers but to teach them to ask questions."
Faulkner's dinner celebrated the 75th anniversary of the university.
Copyright 2017 WSFA 12 News. All rights reserved.