Defiant Torrey McNabb held up middle fingers, saved final words for AL before execution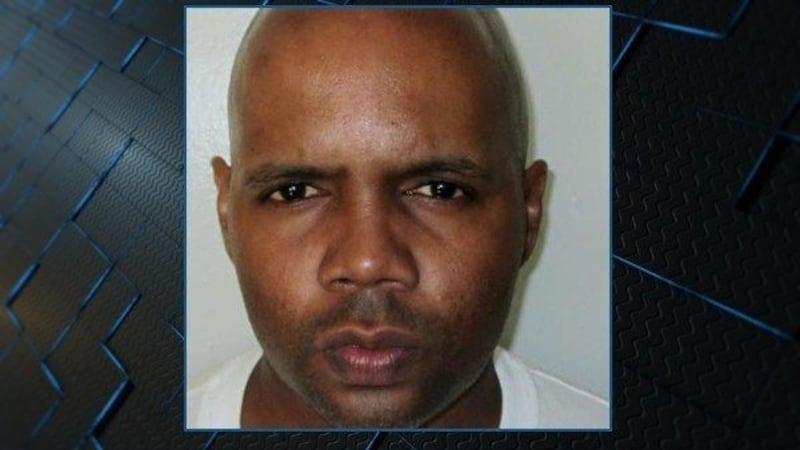 Published: Oct. 19, 2017 at 8:19 PM CDT
|
Updated: Oct. 20, 2017 at 10:21 AM CDT
MONTGOMERY, AL (WSFA) - The Alabama Department of Corrections executed Torrey McNabb Thursday night for his conviction in the 1997 murder of Montgomery police officer Anderson Gordon. McNabb was declared dead at 9:38 p.m. by lethal injection at Holman Prison in Atmore.
McNabb refused a final breakfast and dinner. He did not want prayer or a chaplain before, during or after the execution, and his final statement was directed at his family and the State of Alabama as they witnessed the execution.
"Mom and sis, look at my eyes, I've got no tears in my eyes. I'm unafraid. To the State of Alabama I hate you mother f***er, I hate you."
In 1997, Corporal Anderson had driven up on an automobile crash caused by McNabb as he fled from a bail bondsman. McNabb opened fire on the officer, killing him.
In addition to members of the media being witnesses, McNabb's two sisters, and two attorneys, as well as the victim's wife, two children, and three siblings watched as he was put to death.
The execution started at 8:56 p.m. A defiant McNabb made fists with both hands, then raised both middle fingers. After the injection started, he made eye contact with his family but continued clenching his fists.
ADOC officials conducted two consciousness checks on the man, the second around 9:17 p.m. McNabb reached up with his right arm and moved his head, making a face but never opening his eyes. His attorneys showed concern about his state of consciousness and his family audibly stated their concern that he was still conscious. ADOC Commissioner Jeff Dunn said he considered the movements involuntary and said it was not uncommon.
After 9:20 p.m. witnesses reported there were no movements made by McNabb. At 9:31 p.m. the curtain to the chamber was closed. McNabb was pronounced dead seven minutes later.
Following the execution, Gov. Kay Ivey released a statement that reads:
"Though Mr. McNabb did not formally ask for clemency, I gave his case, and his sentence, the deepest level of consideration possible. Whenever an individual in Alabama is scheduled to be executed, I take seriously my responsibility to weigh the circumstances of the case, mitigating and aggravating factors and the need to ensure justice is served.
 
"Mr. McNabb was convicted by a jury of his peers of killing a police officer who was sitting defenseless in his patrol car, while on duty. Police officers across Alabama make great sacrifices to protect our people and to ensure proper enforcement of our laws. It is tragic that Mr. McNabb chose to murder Officer Anderson Gordon for simply trying to talk to him. Courts at every level have upheld Mr. McNabb's conviction for his senseless act.
 
"Due to the nature of his crime, the decision of a jury to condemn him to death and because our legal system has worked as designed, Mr. McNabb's sentence was carried out."
Alabama Attorney General Steve Marshall also released a statement that read:
"The 20-year wait for justice is finally over for the family of Montgomery Police Corporal Anderson Gordon III.   In 1997, Torrey McNabb took the life of Officer Gordon, shooting him five times as he sat in his patrol car. Tonight, the family of Officer Gordon can finally seek peace."
McNabb's final week saw a frenzy of court filings by attorneys seeking to delay or stop his execution, as well as state leaders seeking to move forward with capital punishment 20 years after Officer Gordon was gunned down.
A federal judge halted the execution earlier in the week, and the 11th Circuit Court of Criminal Appeals upheld that stay. McNabb was one of several death row inmates challenging the constitutionality of Alabama's execution by lethal injection.
Thursday afternoon, the Supreme Court vacated a lower court's order that stayed the execution. Within minutes of that ruling, McNabb's attorneys sought an emergency motion for a traditional stay of execution from the 11th Circuit Court of Appeals in Atlanta, which was immediately denied.
McNabb got a short delay when, just minutes before he was to be put to death, his attorneys got notice from the Supreme Court that it was issuing a temporary stay in order to review their emergency request.
Just over two hours later, however, the Supreme Court vacated its temporary stay, giving the convicted man no more avenues to fight his death sentence.
EDITOR'S NOTE: This report has been updated to clarify the witnesses from the victim's family following incorrect information from ADOC.
Copyright 2017 WSFA 12 News. All rights reserved.