Troy spoils yet another Homecoming, defeats Georgia State 34-10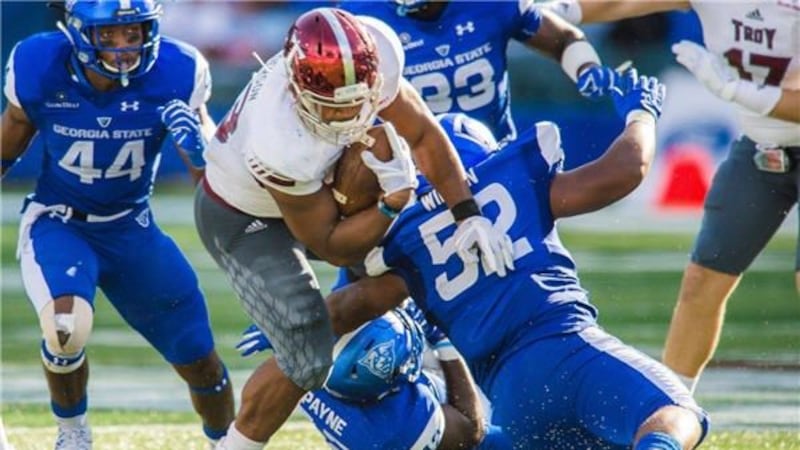 Published: Oct. 21, 2017 at 8:48 PM CDT
|
Updated: Oct. 21, 2017 at 9:44 PM CDT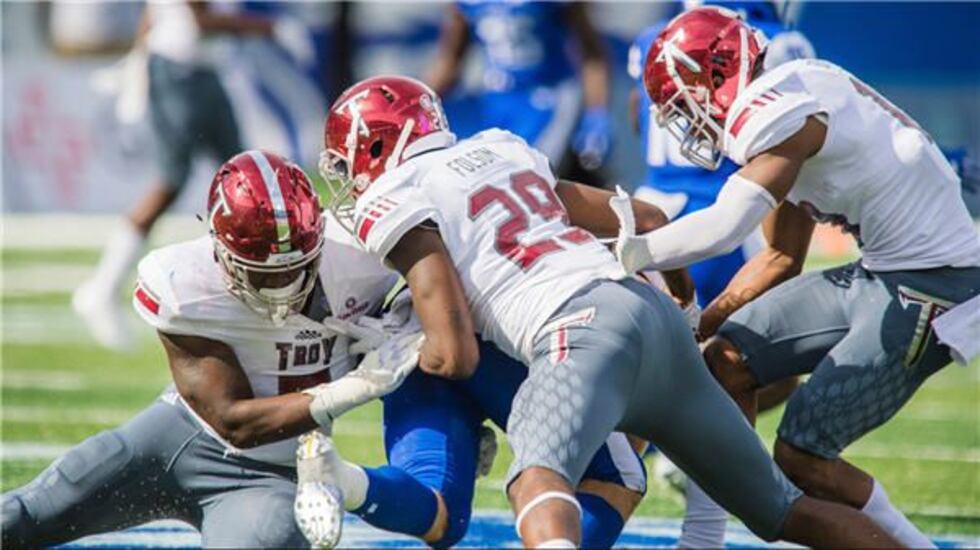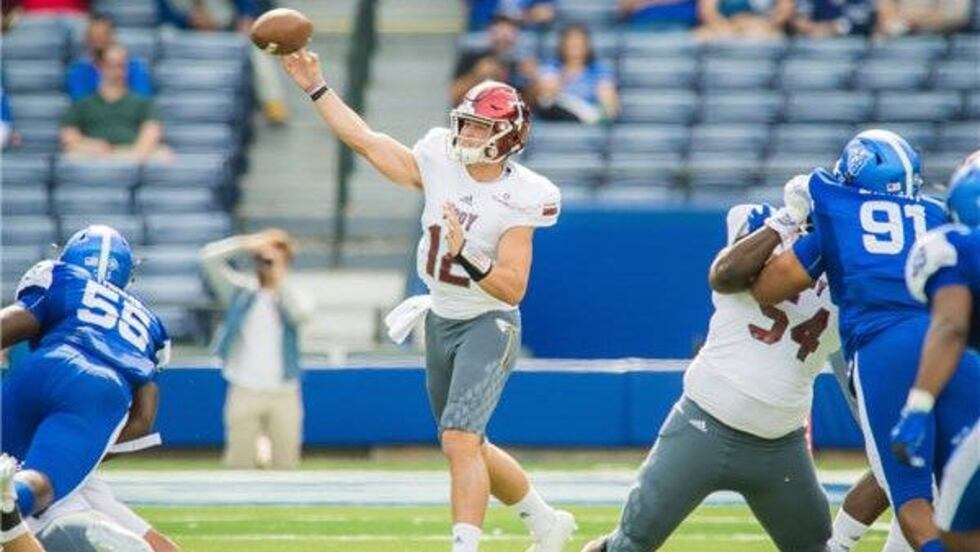 ATLANTA, GA. (WSFA) - The Troy Trojans are now 5-2 overall, 2-1 in Sun Belt Conference play and 2-for-2 in spoiling Homecomings after taking down Georgia State 34-10 Saturday afternoon.
In Georgia State Stadium, the Trojans found their stride in what was formerly known as Turner Field, home of the Atlanta Braves. It was the home run play that kept the Trojans up beat and in the groove.
After throwing his fourth interception of the season on the team's first drive, Brandon Silvers came back and connected with John Johnson on the long 49-yard touchdown pass to put the Trojans on top 7-3. Two possessions later, Brandon Silvers connected with Deondre Douglas to increase the lead to 14-3. Douglas finished with two touchdowns, one receiving and one rushing.
Douglas's rushing touchdown came on fourth-and-two, he took the handoff from Brandon Silvers 35 yards around the left edge to the house for the score. Josh Anderson pitched in another touchdown on the ground later on in the game for the men of Troy.
Up 21-3 right before half, the Trojans held the Panthers on four downs on the goal line to take a commanding 21-3 lead into the break. After half, Silvers hit Jamarrius Henderson on another home run play, 42 yards into Georgia State territory. That drive was finished off by Anderson from just outside the one-yard line. Anderson also led the rushing attack overall, gaining 57 yards on 13 carries.
Silvers on the following drive connected with Douglas on a 30-yard pass, en route to throwing for 335 on 25-of-35 completions. Silvers finished with two touchdown passes as Troy pinned two field goals on the board to close out the game.
With the offense seemingly jumping back on track following the South Alabama loss, the Trojan defense looked just as good as it has all year, forcing an interception, and allowing only 52 rushing yards. The defense of Troy held Georgia State to 10 points, bringing the team's average to just 17.4 points allowed per game.
The Trojan offense totaled 457 yards in the win and will look to carry Saturday's momentum into Homecoming next Saturday against Georgia Southern. That game will hold importance as Georgia Southern not only spoiled Troy's Homecoming two seasons ago, but the Eagles also defeated Troy last season, denying the Trojans a share of the Sun Belt Conference Champion title.
That game will kick from Veterans Memorial Stadium at 2:30 p.m.
Copyright 2017 WSFA 12 News. All rights reserved.