Troy University hosts Supreme Court hearing on landmark case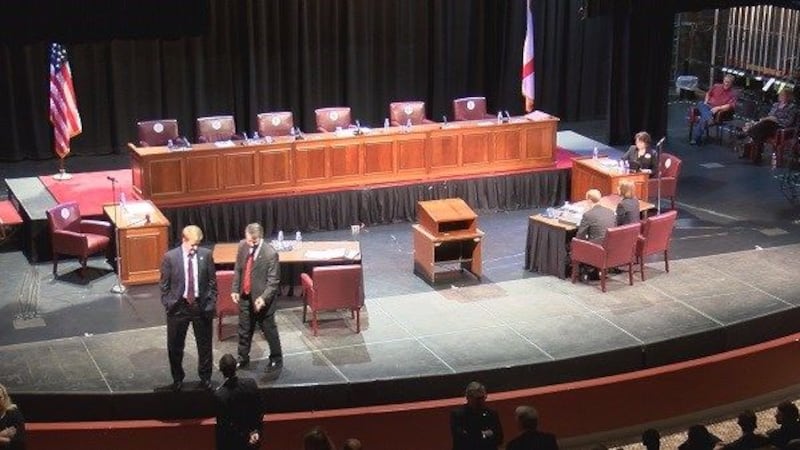 Updated: Nov. 8, 2017 at 6:19 PM CST
TROY, AL (WSFA) - In 2012, Jessie Phillips was sentenced to death for the murder of his pregnant wife and their unborn child, but now he is appealing that conviction to the Alabama Supreme Court.
On Feb. 27, 2009, Jessie Livell Phillips shot his wife, Erica Phillips, who was eight weeks pregnant, in the head after an argument in the car.
Jessie Livell Phillips v Alabama is a landmark case in the state. The case was the first prosecution and conviction under Alabama's Brody Act, which makes it a homicide to kill an unborn baby in an attack on the mother.
It "allowed prosecutors and in this case, me, to be able to convict him of the death of two or more persons including the death of the unborn child," said Alabama Attorney General Steve Marshall.
Phillips was prosecuted in Marshall County in 2012 by then District Attorney Steve Marshall. Marshall was at the appeal hearing Wednesday.
"We believe that they'll be thoughtful, and they'll be careful in their decision and that they'll render a verdict that provides justice to the family," Marshall said.
The hearing took place at Troy University.
"The Alabama State Supreme Court came to Troy to hold a regular session and as a consequence we were able to invite area high schools, our own students, to be part of this and to witness justice in action," said Troy University Chancellor Jack Hawkins.
Chancellor Hawkins said seven public and private schools were in attendance, along with some Troy University students.
"A lot of our students of course are interested in pursuing a career in law school education and this was a good experience for them to see what it really means at the end of that law school journey, and so I think it'll enhance the educational experience for all the participants today," Hawkins said.
The court routinely holds sessions at locations around the state in order to give members of the public, and students, a more convenient way to view proceedings.
Copyright 2017 WSFA 12 News. All rights reserved.