Auburn University introduces new athletics director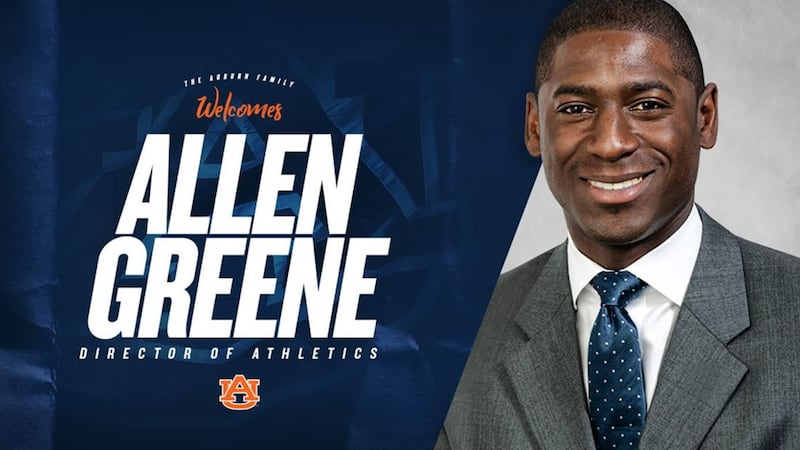 Published: Jan. 18, 2018 at 8:20 PM CST
|
Updated: Jan. 19, 2018 at 11:51 AM CST
AUBURN, AL (WSFA) - Auburn University has named Allen Greene it's new director of athletics.
Greene has been the athletics director at Buffalo since November 2015. He will assume day-to-day responsibilities at Auburn in February, according to the university.
"Allen kicks off the next exciting chapter for Auburn Athletics," said Auburn President Steven Leath. "In our interviews and due diligence learning all we could about him, it became overwhelmingly clear that Allen has the right combination of leadership, enthusiasm, experience and management to lead Auburn Athletics to success well into the future."
Greene, 40, graduated from Notre Dame with a degree in finance and later received a master's degree from Indiana University. He was a three-year starter in baseball at Notre Dame and was selected by the New York Yankees in the 1998 MLB draft. He played in the minor league system until March 2001.
"Serving Auburn University as Director of Athletics is a tremendous honor and an awesome responsibility, Greene said. "Time-honored traditions have helped create a culture of success at Auburn that is incredibly rare. I am humbled that President Leath and the Search Committee entrust me to maintain all that is uniquely Auburn and utilize that foundation to forge a path to even greater heights. Whether in the classroom or on the fields and courts of play, these lofty expectations are embraced, and I am eager to get to work for the Auburn Family."
Jay Jacobs recently announced his retirement after serving as the director of athletics since January 2005.
Copyright 2018 WSFA 12 News. All rights reserved.