Faulkner University introduces Shayne Wasden as new head football coach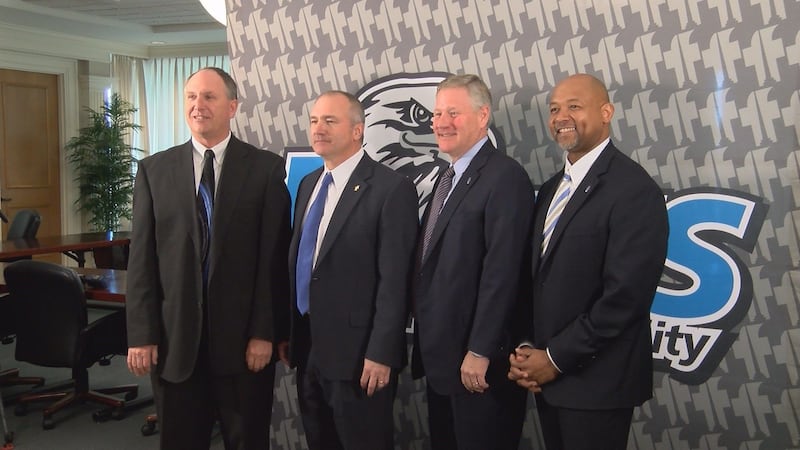 Updated: Jan. 19, 2018 at 6:07 PM CST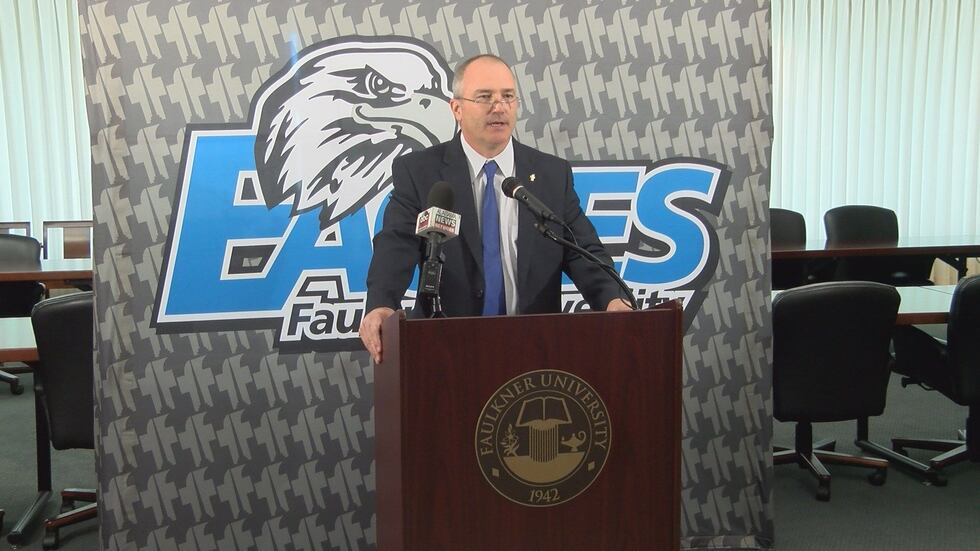 MONTGOMERY, Ala. (Faulkner Athletics) - Faulkner University president Dr. Michael Williams officially introduced Shayne Wasden as the school's new head football coach at a press conference in the Carmichael Boardroom of the Harris College of Business building on campus this morning. The event, originally scheduled for Wednesday afternoon, was twice postponed due to hazardous road conditions in the wake of this week's winter storm.
"The decision to hire Shayne Wasden extends way beyond his professional accomplishments," Williams said. "Shayne is a principled Christian leader who knows how to build great men. Long after the dust settles on championship banners, we want our student-athletes to be the type of individual you want to hire at your company, to move into your neighborhood, to go to your church and to date your daughter or granddaughter. And for those aspirations, we believe that Mr. Shayne Wasden is an exceptional fit for Faulkner University."
Wasden, 49, spent 12 seasons at Troy University from 2004-2015, the last 10 of which were as associate head coach. In that span he worked extensively with wide receivers and tight ends and was also the special teams coordinator. Wasden helped lead the Trojans to five Sun Belt Conference Championships and five bowl game appearances.
"We plan to continue to build this program," Wasden said after thanking the Faulkner administration, visiting media and his family for attending the event. "Coach [Charlie] Boren won 29 games in the last four seasons and we plant to continue that trend and ultimately win championships here. Our formula for success is to play fast on offense - we'll get lined up fast, we'll run a lot of plays, we'll be multiple, we'll get the football to a lot of different individuals and it'll be fun."
"Our defense is going to run to the football, get lined up fast and play physical, hard-nosed football. And we're going to win games on special teams. A lot of people overlook that aspect of the game."
While Wasden's X's and O's philosophy was certainly a noteworthy topic for the Faulkner football faithful in attendance at the press conference, it was his subsequent emphasis on his overall approach to the game and the character he'll strive to bring to the table that proved the most significant highlight of the event.
"We're going to make this thing fun," Wasden emphasized. "Football is a game and games were meant to be played, to have fun and enjoy. It's meant to be played with passion, but when it ceases to be fun, I'm going to get out of coaching.
"We're going to do this thing the Faulkner way," he added. "This university was founded on Christian principles and values and those are the things that our young men are going to represent on and off the field of play. And that is our number one goal, our mission here."
Wasden said that targeting local, high school recruits is a vital ingredient to the long term success of this strategy and that the recruiting field will radiate outward from Montgomery. This focus, he believes, will allow he and his staff to "put families in the stands and a great product on the field."
Over 11 seasons, Wasden amassed high school coaching record of 91-34 and secured six total regional championships while heading programs at Eufaula, Opp and Georgiana High Schools in Alabama. This extensive background makes him ideal suited to build a deep and lasting recruiting network state-wide.
Wasden officially took the helm of the program this morning and kicked the day off with an early-morning staff meeting. He plans to meet with the team Sunday afternoon.
The Wasden era on the field will begin on Aug. 25 when the Eagles travel to Campellsville, Ky., for a date with the Tigers.
(Courtesy: Faulkner Athletics)