Teen laughs before judge hands down 65-year prison sentence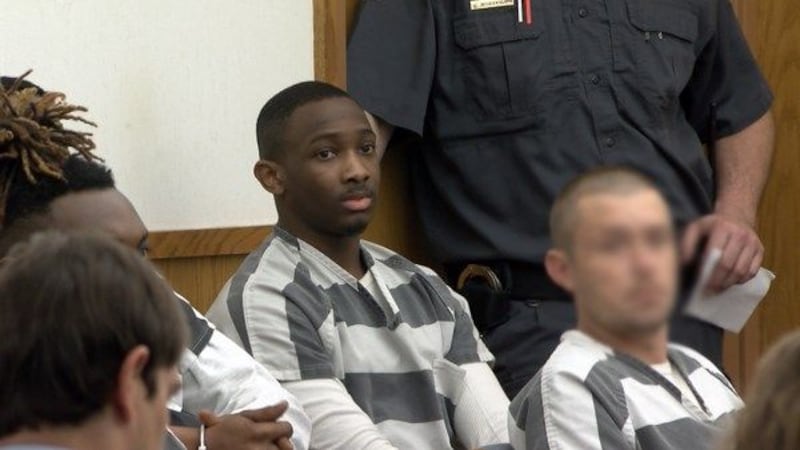 Updated: Apr. 5, 2018 at 8:25 PM CDT
ELMORE COUNTY, AL (WSFA) - LaKeith Smith, 19, laughed at a judge's comment during his sentencing Thursday. He'll spend 65 years in prison for felony murder, armed burglary, second-degree theft, and third-degree theft.
An Elmore County jury found Smith guilty of the felony counts in March. He was the only defendant of four that did not plead guilty.
Smith was tried under Alabama's accomplice liability law for the death of the fifth suspect, A'Donte Washington, who charged a Millbrook police officer with a gun and was subsequently shot and killed.
Because Washington was killed during the commission of a felony, all suspects involved were charged with felony murder for his death.
Judge Sibley Reynolds noted that Smith had shown no remorse for his actions during the entire trial process and took no opportunity to apologize.
Reynolds overheard Smith say, "I don't have time for this" while waiting to be called and, and the judge confronted him about his comments.
"You got plenty of time for this," Reynolds explained to Smith before handing down the sentence. "When I called the case earlier you said you ain't got time for this, so I didn't know if you had time for this now?"
Smith laughed and lowered his head, stating he didn't know the judge heard him.
Reynolds paused and asked Smith, "You just don't get it do you?"
"He hasn't said I'm sorry yet," the judge went on. "He hasn't acknowledged to this court that he shouldn't have done, shouldn't have come around, in fact, his attitude toward this court and life, in general, has been sour."
Smith's grandfather made an impassioned plea for his grandson's freedom, asking the judge to show mercy.
"Give him a chance to tell you he's sorry," the grandfather pleaded with Reynolds.
"He's had every opportunity," the judge responded. "I've asked two or three times today."
"Are you sorry?" the grandfather asked Smith then responded he was sorry for his actions and sorry for his "homeboy", referencing A'Donte Washington.
Chief District Attorney C.J. Robinson noted Smith's attitude in court.
"After the jury verdict, he was laughing. Today in court he was laughing," Robinson said. "I have yet to understand what was so funny."
Robinson explained Smith was a young man with his whole life ahead of him but now has to pay the consequences for some very bad decisions.
"Standing there in court, I couldn't help but have compassion for his grandfather, for his family," Robinson went on, "because of his stupidity, they have lost him for 65 years."
Smith's co-defendants Jadarrian Hardy, Jhavarske Jackson and Le'Anthony Washington have all pleaded guilty in this case. Hardy is scheduled for sentencing in May. Washington is awaiting a new sentencing date, and Jackson was sentenced to 28 years in prison.
Now three of the defendants will stand trial for other crimes in Montgomery that reportedly occurred before they arrived in Elmore County. Jackson and Hardy are charged with murder in Montgomery County and Washington is charged with first-degree robbery and second-degree kidnapping.
Copyright 2018 WSFA 12 News. All rights reserved.