Orange team defeats Blue team in Auburn A-Day game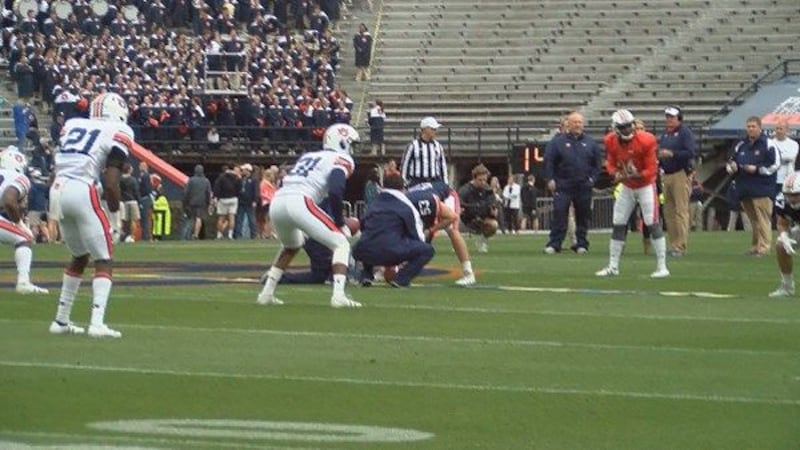 Updated: Apr. 7, 2018 at 5:59 PM CDT
AUBURN, AL (WSFA) - It's the first look fans get of the 2018 Auburn football team. Auburn's A-Day game was Saturday in Jordan-Hare Stadium. Rainy weather and overcast skies were the norm for Saturday as players showcased what is to come this fall, well almost all players.
Auburn star quarterback Jarrett Stidham did not participate in the spring game. After contemplating whether he would declare for the NFL Draft or not, Stidham returned to the Plains for another year. While he didn't participate in the spring game, he participated in 7-on-7, which is what the Tigers ran prior to the scrimmage.
With the pads on, and cleats hitting ripping through the Jordan-Hare grass, the Orange team edged the Blue team 18-10. The Orange team used a strong second quarter, a 13-point quarter, to gain the decisive edge.
The Orange team consisted of mostly 1st-stringers, and it showed. Though it's just spring, the Orange team tallied 234 total yards while only allowing 98 Blue team yards.
C.J. Tolbert played on both squads and led the ground attack for both teams. For the Orange team, the junior had 97 yards on the ground and scored the only touchdown. For the Blue team, he had 43 yards and a rushing touchdown, also the only touchdown for the Blue team.
Anderson Carlson drilled four field goals on the afternoon with his longest being 53 yards. Carlson hit one field goal for the Blue team and three for the Orange team.
The Tigers will be on the hunt come the fall. The season opens Sept. 1 against the Washington Huskies.
Copyright 2018 WSFA 12 News. All rights reserved.