ASU becomes second university to join Montgomery's Internet Exchange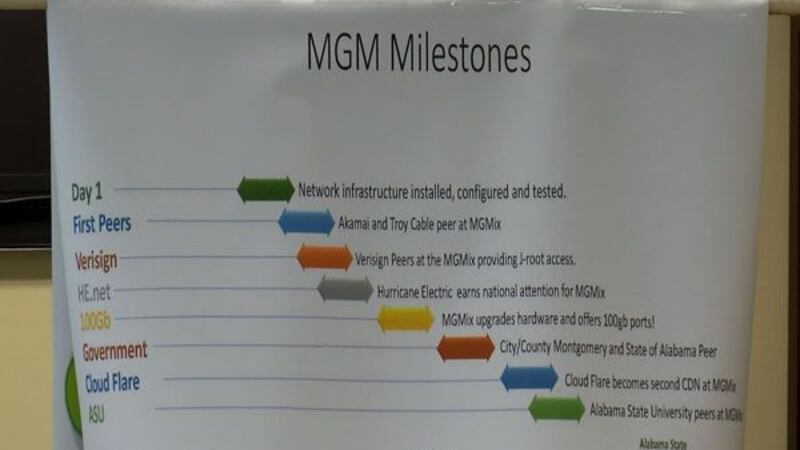 Updated: May. 24, 2018 at 6:04 PM CDT
MONTGOMERY, AL (WSFA) - Alabama State University became the second university to join Montgomery's Internet Exchange Thursday afternoon.
ASU president Quinton Ross said the university is proud to join MGMix.
"ASU has joined the internet exchange because of the primary mission of this university," he said. "Which is to benefit our students and to expand the font of intellectual knowledge, for them, and for our faculty, staff, and for our institution, which is over 150 years old."
The internet exchange is a point where internet service providers can exchange data and gather data from content providers. It allows for faster internet connections and paves the way for economic growth.
With MGMix, instead of internet content being sent to another exchange site far away in another city, it can be sent to the RSA Data Center. That means you get things faster when you turn on your television to stream shows or go to the internet to look something up.
Located in the downtown RSA building, Montgomery's digital data hub is capable of handling the transfer of 100 Gigabits of information per second. It is led by members of the City of Montgomery, Montgomery County, the Montgomery Area Chamber of Commerce, research universities, Maxwell Gunter Air Force Base and the Cyber College of the Air Force.
Auburn University at Montgomery became the first university to join MGMix in June 2017. At the time, AUM Chancellor Dr. Carl Stockton said the decision meant the potential for cost savings and large-scale collaborative research with other universities, as well as better internet performance for students.
Since the exchange began in 2016, more than 25 partners have joined, with the first two companies to join Akami and Troy Cable. One of the partners, WOW!, recently offered Montgomery residents 1 GIG per second internet service, officially making Montgomery a GIG City.
Copyright 2018 WSFA 12 News. All rights reserved.