Bird on the grill: AL man discovers owl stuck in his truck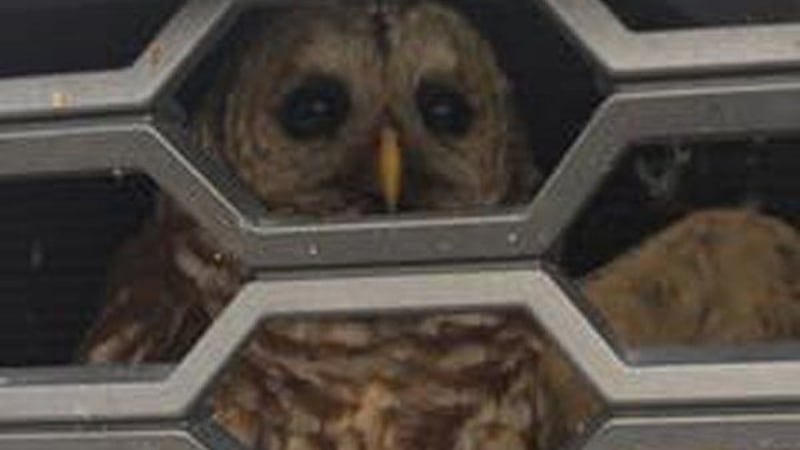 Updated: May. 25, 2018 at 5:15 PM CDT
BULLOCK COUNTY, AL (WSFA) - It's certainly not how you want to find out you've inadvertently grilled a bird, seeing his bewildered little face peering out from behind the facade of your pickup truck. But that's what happened to one driver in Bullock County, Alabama, on Wednesday.
Upon discovery, the driver immediately called his local game warden, who responded to the scene to help rid the ride of the Chevy bowtie-wearing bird.
According to the Alabama Wildlife and Freshwater Fisheries Division, CEO Bill Freeman was able to towel the owl and get it to safety, but not before having to disassemble part of the truck to get to him...or her.
The creature, identified as a Barred Owl, was taken to one of AWFFD's biologists who examined its body and quickly determined, amazingly, that it survived the grilling without so much as a bent beak! No harm, no fowl! (Educational joke! Owls aren't fowl, in case you give a hoot.)
Within an hour of the examination, the bird was released back in the air.
It's not clear how long the bird had been hanging out, squished up against the truck's radiator, but officials with AWFFD said it's not uncommon for them to be struck by vehicles and become impaled. They don't always survive, much less with no injuries.
How can you help reduce such incidents? Don't be a birdbrain when it comes to littering.
Littering? Yes. Throwing your trash out the window.
You see, owls and hawks often scour the edges of roadways looking for rodents to feast on. When you toss your trash, including biodegradable items like sandwiches or banana peels, you draw rodents - and thus owls/hawks - to the roadside where they are at increased risk of being hit.
Copyright 2018 WSFA 12 News. All rights reserved.