Alabama NAACP 'disgusted'; speaks out on escalating school violence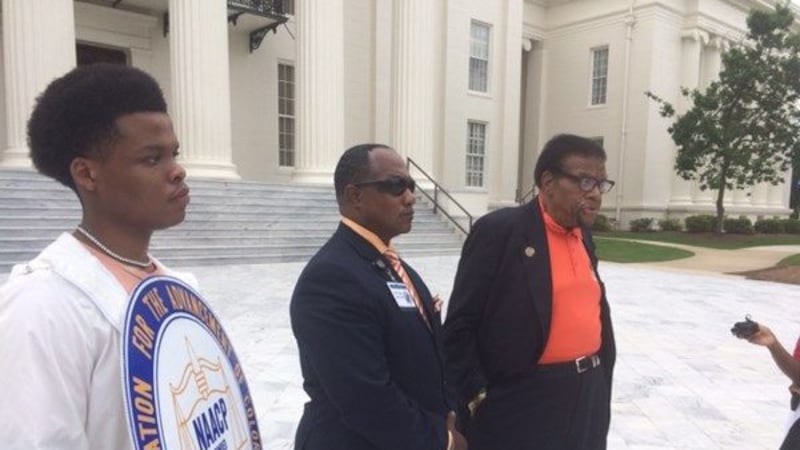 Published: Jun. 1, 2018 at 3:37 PM CDT
|
Updated: Jun. 1, 2018 at 4:37 PM CDT
MONTGOMERY, AL (WSFA) - It's time to stop it once and for all! That was the meat of the message delivered Friday by the Alabama NAACP in three major Alabama cities regarding school violence.
The three news conferences were held in Huntsville, Birmingham and on the Capitol steps in Montgomery, all held at the same time with one united message on school violence. The NAACP wore orange on National Gun Violence Awareness Day to sound the call for action against school shootings; 23 so far this year across the country. Dr. James Poe called on President Donald Trump and Congress to move quickly with more legislation.
"We are disgusted by the killings of our children and babies in school. We want sensible, reasonable and thorough background checks in all venues, all venues where guns are sold," said Dr. Poe of the Alabama chapter of the NAACP.
Tyrese Poe just graduated from high school in Bullock County. While he doesn't recall a school threat during his time there, it was always in the back of his mind.
"Not at my school, but anything could happen," said Poe.
Rev. Alfonza Seldon conceded it's the heart that has to change when it comes to turning away from violence, but believes you must start somewhere with new and stronger laws.
"You keep doing the same thing, you'll get the same results," said Seldon.
Dr. Poe admitted he was a little surprised supporters didn't show up for Friday morning's news conference, but still believes they have an important message and they can't tell it soon enough. WSFA 12 News reached out to the NRA for a response. No response for the moment. Poe and company, meantime, say this is only the beginning in their aim to curb violence in the schools.
It was also a virtual no-show Friday at the news conference in Birmingham, but a dozen or so supporters turned out in Huntsville.
Copyright 2018 WSFA 12 News. All rights reserved.