MPS students say they're concerned about system's safety, politics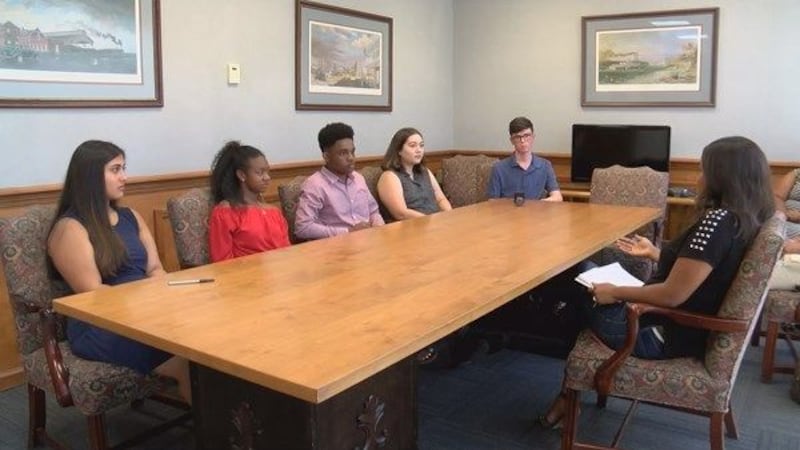 Updated: Jul. 11, 2018 at 10:04 PM CDT
MONTGOMERY, AL (WSFA) - Ahead of next Tuesday's run-off elections, a group of students from Brewbaker Technology Magnet High School and Loveless Academic Magnet Program High School said they had some concerns and questions about the future of their school system. There were six students in total. The students were Kyle Adams (Brewtech, Junior), Hanah Bloom (LAMP, Junior), Michael Barr (LAMP, Senior), Catherine Beauchamp (Brewtech, Junior), Angelina Unich (Brewtech, Junior) and Abigail Naba (LAMP, Junior).
The group said their top three concerns for MPS are safety, leveling the playing field for low-income students and leaders putting politics before students.
Safety
Beauchamp said her biggest concern stems from recent reports of school shootings and concerns about whether MPS has the policies in place to help keep students safe in their classrooms.
"People don't think about it happening here in Alabama or happening in Montgomery because it hasn't happened yet," said Catherine Beauchamp. "But it's happening everywhere else."
While Beauchamp said she believes the best solution is an adjustment to state and federal gun laws and regulations, she and Adams said they believe there are steps that can be taken at the system level to help ensure better safety practices in the schools.
"The school board and the schools, themselves, can work a lot better to enforce the rules that are in place," said Kyle Adams. "Things like the metal detectors in schools, checking backpacks of students. Those things can be enforced a lot better and not looked at as things that are just another precaution put in place to protect students. The schools should make sure they're using them and not looking over it."
Adams said he has seen, in his own school, instances where backpack checks are not being completely enforced and security staff are not paying close attention to the results of metal detector scans.
While there has been discussion about the possibility of arming teachers as a method of fighting against potential active shooters, Bloom said she thinks that is a bad idea.
"I feel like that solution is horrifying in my opinion," said Hanah Bloom. "I think it does not solve the problem at all. I think it causes just a million more."
Low-income students
Barr said he believes the system tries to implement a "one size fits all" plan in school system where that won't work.
"I can sit here, from a position of privilege, and say everything is fine at a magnet school," said Michael Barr. "I've talked to students who are not given the privileges of a magnet school, and they struggle more than I. I feel like the school board and the education system in Montgomery has failed those students on class-by-class, student-by-student level and at a macro level as well."
Bloom said she believes the current plan creates a situation where students are leaving MPS unprepared.
"One system I heard from a teacher is that, if a student has failing grades, they are supposed to create a plan to help that student," said Bloom. "Well, if you're in a failing school system, a lot of the students will have failing grades. The teachers will not have time to create a plan for every single students. So, what they're going to do is inflate grades. That just creates a cycle where they're not learning."
Barr said he has hard similar stories.
"I was talking to a student who goes to a traditional school, and he was saying that a lot of teachers don't have the time or the energy," said Barr. "Even if they're not inflating grades, they just pass the student on to the next teacher, and it's the next teacher's problem. I was talking to him, and he was saying that people in his senior class still only read on a third or fourth-grade level."
Barr said he believes student achievement needs to supersede policy agreements.
"At the end of the day, if these are people's experiences and students are not getting the education that the school board and MPS promised them, there need to be fundamental changes," Barr said
Voting
Barr, who recently turned 18, is the only student in the group who was able to vote in the primaries. He said he believes the political divide with Alabama's crossover voting law, especially when voting for the school board, is a form of "voter suppression."
"I am not a party, I'm a person," said Barr. "I want to vote for solutions, not sides. That's why we need open elections in this state. We should be able to vote for the best candidate, not just the red or the blue candidate."
He said he received a Democratic ballot because he politically leans that way, but he wanted to vote for a Republican candidate in the primaries for his school board district because he believes that candidate would have been the best fit for the board.
"I should be able to vote for the candidate of my choice, not just the party of my choice," Barr said.
Bloom said she was also concerned about certain candidates losing in the primaries because she said their opponents received more backing and campaign money from local groups. She said she believes instances like those are examples of the public putting politics ahead of the best interest of students and local public education.
The school board
Adams said he watches all of the school board meetings online.
"It's a lot of bickering that goes on and a lot of not focusing on the issues," said Adams. "They tend to stay on certain issues that aren't really dire and don't really matter. I think the board, itself, could would work a lot better with each other."
All of the students also agreed that they believe board members should spend more time in schools, talking to students.
Barr said he believes the current school board has gotten a bad wrap for a situation that has been building for years.
"I think, already, certain members of the board who were actually working to make things better for students have already been pushed out just because they are current board members," Barr said.
All six students said they believe there needs to be fundamental changes made in MPS and that the board is not to blame for all of the issues it currently has.
Barr said he believes there needs to be recognition of the way historical racism and segregation factors into current practices if effective change is to be made. Other students said leaders would be better able to create more effective policy if they knew what was happening in each school.
They also said teachers need more support and there need to be more resources for students living in poverty.
The students said they hope to hold a forum for school board candidates ahead of the general election in November.
Copyright 2018 WSFA 12 News. All rights reserved.