Tuskegee University's president settles into new role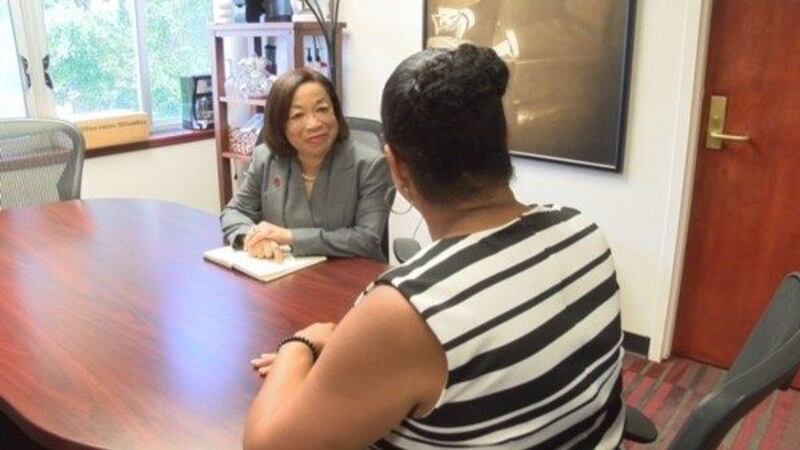 Updated: Aug. 7, 2018 at 10:30 PM CDT
TUSKEGEE, AL (WSFA) - Dr. Lily D. McNair officially took her post as President of Tuskegee University on July 1. McNair is now reflecting on her first 30 days as the institution's new leader.
"This is where the term 'overwhelmed' is appropriate. I remember when I got the call from the chairman about getting this position and I was told we just made history. I was overwhelmed and thrilled at being the next president of Tuskegee," said Dr. Lily D. McNair.
She is Tuskegee University's eighth president and the first female president of the institution in its 136-year history.
"Given the work I have done over the years on gender and women's studies this is just a wonderful way to really acknowledge the work I've done. I'm proud of what I'm done. I'm proud to be a role model," said McNair. "If you set your mind on something you never know what kind of dreams you can achieve."
Since assuming this role, McNair has wasted no time getting to work.
"I have been getting to know people. I've been getting to understand the climate and culture here and getting to know students. Two weeks ago we had our first summer commencement. It was a wonderful experience," said McNair.
Over the past 30 years she has built her career in Higher Education.
"I have literally climbed through the ranks from assistant professor to associate professor, full professor, then to administrative positions," said McNair.
The path she took led her to a number of institutions, including Spelman College in Georgia and Wagner College in New York City.
"I loved being part of a community where I took ownership of working with others to create a better academic atmosphere for everybody," said McNair.
Seeing increased retention, graduation rates, and enrollment are among her top priorities.
"We have been talking about growing enrollment and making this education accessible to others. I'm also looking forward to fundraising and raising the investments of endowments so we can provide more resources to support the excellent work we do," said McNair.
Her vision focuses on telling the story of TU around the world.
"Tuskegee is a brilliant diamond. Tuskegee is an institution with a historic legacy. No other institution can say it has the accolades and accomplishments that Tuskegee has," said McNair.
In order to reach the goals set, she believes it will take shared leadership.
"Institutions move forward not only because of the vision of one or two people, but because of an inspired vision that bring together people of like mind," said McNair. "Tuskegee is in a good position right now, because in the last several years we have ended each fiscal year with budget surpluses. Students are at the center of everything we do."
A native of New Jersey, Dr. McNair holds an undergraduate degree in psychology from Princeton University, and master's and doctoral degrees in psychology from the State University of New York at Stony Brook.
Copyright 2018 WSFA 12 News. All rights reserved.