Montgomery budget increase proposed for upcoming fiscal year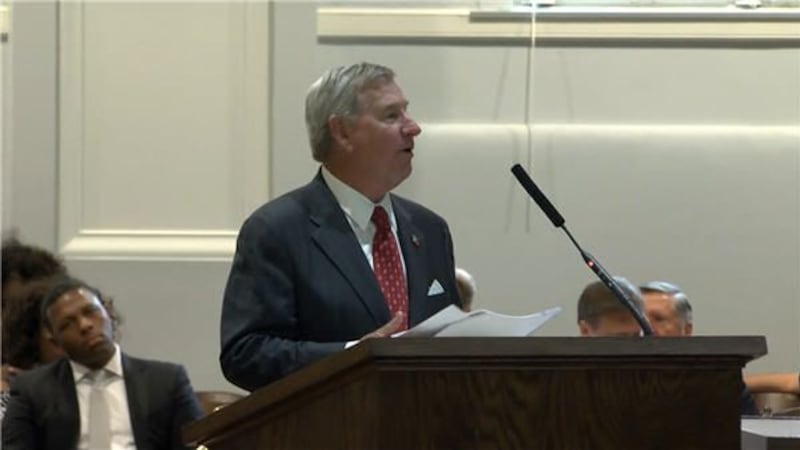 Updated: Aug. 7, 2018 at 10:26 PM CDT
MONTGOMERY, AL (WSFA) - The city council budget proposal was one of the topics of conversation at the city council meeting Tuesday. Montgomery city leaders are asking for more money on the budget for the upcoming fiscal year.
Montgomery Mayor Todd Strange said the general fund has been proposed at $250 million. That's up to $8 million from last year.
The costs of the expenditures in the budget were broken down into several parts (Strange emphasized these were not exact numbers but rounded):
$3 million for health care for those active and retirees

$1.7 million merit increases for "deserving employees"

$1.5 million in additional paving, intersection upgrades and striping - Close to $225K per district

$1.2 million for public safety

$500K for retirees - Onetime payment
In going about a way to gather the funds, mayor Strange suggested the following:
Two-cent gas tax- Would total to $3 million

Reduction in sanitation days- Cut $2 million by going from a 3-day pickup cycle to a 2-day pickup cycle. But would bring back the debris collection pickup points every Saturday instead of every other Saturday.

$2.5-$3 million in normal increases from sales tax, lodging tax, ad valor em tax, and business licenses.
These three "ordinances" as Strange called them, were not officially proposed Tuesday but will be at a later date Strange said.
Strange also mentioned that proposed in the $250 million budget is a $1 million increase in the reserves and expenditures for economic development projects.
Strange addressed that all numbers have been calculated as of October and talked about what would happen if the budget was not addressed by then.
"We've counted the revenue effect, or the cost effect, as of Oct. 1. If the council does not deal with it in advance of that then it will be the November, December time frame that that would be coming into effect and we'd be short whatever that amount of money is," said Strange.
Copyright 2018 WSFA 12 News. All rights reserved.