The will to live: How Lisa Theris survived in the woods for weeks
Published: Aug. 17, 2017 at 1:34 AM CDT
|
Updated: Aug. 18, 2017 at 4:18 PM CDT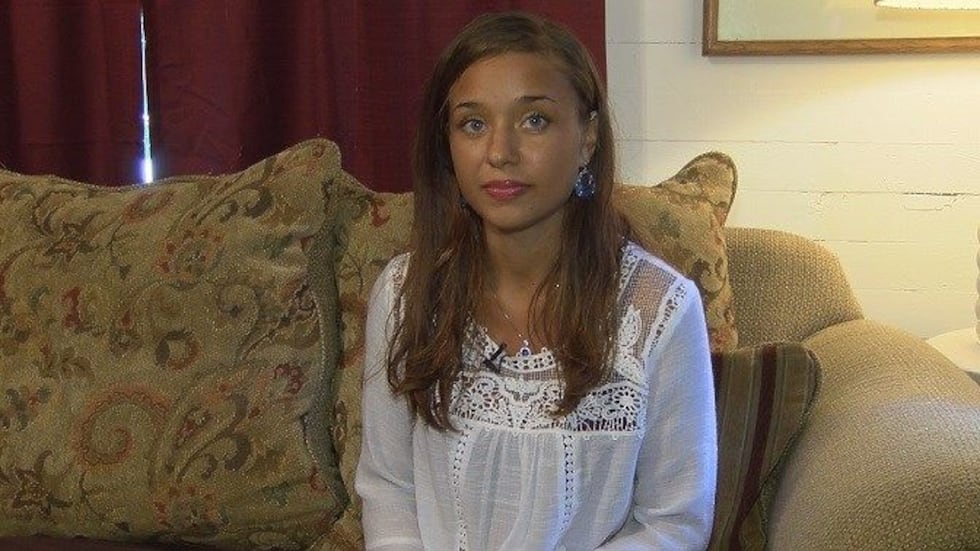 BARBOUR CO., AL (WSFA) - It sounds just like the plot line of a television show- a woman naked and afraid, lost in remote woods.
But Lisa Theris' journey back to civilization was real life and a real struggle that lasted a month in Bullock County.
"I'm just so happy to be home and recuperating. I just thank everybody for the prayers and support. It means a lot," she said in an interview at her home in Barbour County. "Just being out of those woods is just the most amazing thing."
Theris brought one thing with her out of the wilderness, a staff she made to help her walk. She thought she'd lost it when she was rescued, but a deputy put it in his car and brought it to her.
"This is where the roots were and I scooped them out and made it mine," she said.
She also came out of the woods with poison ivy, cuts and many, many bug bites.
"They cover my whole body," Theris revealed. "The bugs weren't so bad during the day because it was so hot, but at night it was the worst."
The 25-year-old from Louisville defied all odds, surviving 28 days alone, with nothing at her disposal but her will to live. She was lost in thousands of acres of dense forest in the Midway area. It's a huge plot of land without any homes or roads for many miles. Investigators said for Lisa, it was disorienting and she admits, she was scared.
"You can't imagine how large of an area it was. I couldn't believe it. I kept thinking I would find a person or a house, even if it was empty, but there was nothing. Nothing but nature. That's it," Theris explained.
Lisa is also legally blind and cannot see much of anything without her glasses or contacts, making things even more difficult.
She was reported missing and feared dead. Search parties combed the area looking for her for weeks, but there was so much ground to cover.
"I just did what I could," she said. "I just knew that when I was thirsty, I had to drink, no matter if the water was dirty or what. I had to get as much of it as possible. Sometimes it would make me very sick. I thank God for the berries. There were always pretty much berries."
She also found mushrooms and ate most of them, leaving the bright colored ones alone.
Theris considers herself lucky that the entire time she was stranded, she didn't come across any snakes or coyotes.
She thanked the woman, a passing driver from Florida, who stopped to help her when she had finally managed to stumble onto Highway 82.
Lisa had heard what sounded like traffic for two days and kept going different directions until she came upon the highway on Saturday. and crawled up the side of the road.
"She was so wonderful," Theris said about Judy Garner, the Good Samaritan who called 911 and stayed by her side. She also gave Lisa a shirt and boxer shorts to put on.
Garner asked Lisa what happened to her clothes.
"I think she said when she went to sleep they were on, but when she woke up, they weren't on. I asked her what happened and she said she didn't know," Garner said, exposing the possibility Lisa was drugged at some point. It's something investigators are looking into. Authorities have indicated that there's much more to the story, but they cannot release any additional information at this stage in their ongoing investigation.
As Theris recuperates, she said she can't talk about what happened to her, because it remains under investigation. It's not clear how much she remembers or how she ended up lost in the woods without any clothes, a phone, or shoes.
Two men are in custody and have been charged in a hunting camp burglary in Midway that happened around the time Lisa Theris disappeared. Both men have been questioned in the case. The chain of events leading up to her being alone in the forest have not yet been released by law enforcement.
Her body was weakened by her ordeal, but Theris is going stronger every day and has already gained back 10 of the more than 40 pounds she lost.
She hasn't seen the show "Naked and Afraid" which tests survival skills, but many have made reference to it when they hear about what she went through.
Every night she was in the woods, she says she would find a tree to sleep under.
"For some reason, that was comforting to me," she said. "The only thing that kept me going was my family. I just kept thinking about how I had to see my family again."
The gashes are healing on the bottom of her feet. She was exposed to brutal elements day and night.
"I would try to keep going mostly forward, never back unless I ran out of water and I remembered a certain place where there was water," she stated. "There were times I thought I was never going to make it out but I just kept pushing, tried to keep that in the back of my head."
Lisa didn't have any way to tell time when she was stranded, but she kept track of the days in her head.
Her ordeal has given her a whole new outlook on life.
"It makes you appreciate everything, every little thing," she added.
Theris' story is making news around the world, but she is taking things one day at a time as she recovers. She's also focusing on school. She's a student at Wallace Community College in Eufaula, studying to become a radiologist.
"I'm just so thankful. I just praise God and I'm so happy to be here right now," she said.
Copyright 2017 WSFA 12 News. All rights reserved.